Dr. Pete N. Jimenez
Pediatric Dentist
Dr. Pete N. Jimenez (Dr. J), was born at Redlands Community Hospital and raised in Yucaipa, CA. Where he now lives with his wife, Teresa and five children, Cecilia, Petey, River, Justice, Jason and his puppy Titan. Dr. J's hobbies include reading, playing his XBOX, rooting for the San Diego Chargers, golfing and especially spending time with his family, children and his extended family in Yucaipa.
Yucaipa High School Graduate Mighty Class of 1990!
2000 Loma Linda University Graduate in Dentistry
2003 Dental Anesthesia Graduate at LLUSD
2005 Graduate of Pediatric Dentistry at San Diego Children's Hospital and Health Center.
He also is an associate professor at LLUSD, Department of Pediatric Dentistry.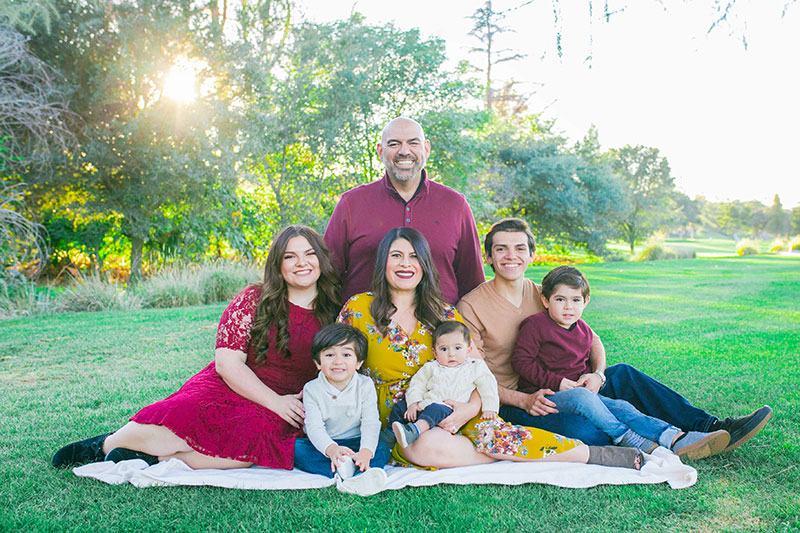 ---
Dr. Norman E. Carter
Orthodontist
I grew up locally, in Redlands. For the past ten years I've lived in Beaumont with my wife, best friend, and the love of my life. We have two boys who keep our lives full of joy and adventure.
When I'm not working, I enjoy cycling and spending time with my family. I like playing with the boys and cooking wonderful family meals with my wife.
I also volunteer my time mentoring and coaching a local high school mountain bike team.
I'm a dedicated life-long learner. Our patients trust us to deliver the best care and continuing education allows us to exceed their expectations. I attended national, regional, and local orthodontic meetings, taking courses that focus on efficient and proven treatment approaches. Orthodontics is a continually evolving specialty and I am committed to remaining current on the changes.
EDUCATION AND CONTINUING EDUCATION
Doctorate of Dental Surgery, Loma Linda University Dental School
Masters of Science in Orthodontics, Loma Linda University Dental School
PROFESSIONAL MEMBERSHIPS
American Association of Orthodontists
American Dental Association
California Dental Association
Tri-County Dental Society
Dr. Trevor Holloway
Dental Anesthesiologist
Dr. Holloway graduated cum laude from Loma Linda University School of Dentistry. Following dental school Dr. Holloway received extensive training at Loma Linda University specializing in the field of general anesthesia. Training consisted of a two year residency in general anesthesia and included rotations in cardiology, internal medicine, hospital operating room anesthesia, and outpatient general anesthesia and sedation.
Dr. Holloway is certified in Advanced Cardiac Life Support (ACLS), Pediatric Advanced Life Support (PALS) and Basic Life Support (BLS). Additionally, he has completed advanced training through The Difficult Airway Course for Anesthesia Providers in managing and treating airway emergencies and also completed multiple perioperative crisis management workshops at San Francisco General Hospital. Currently Dr. Holloway is an assistant professor in the Department of Anesthesiology at Loma Linda University School of Dentistry.
---
Dr. Alexandra Onodera
General Dentist
Dr. Alexandra Onodera is a bright new addition to our Little Smiles team. She obtained her Bachelors Degree from the University of California, Santa Barbara and her Doctorate of Dental Surgery from the University of California Los Angeles School of Dentistry. Dr. Onodera grew up locally in Yucaipa and is delighted to be back in her hometown helping to provide beautiful smiles. Dr. Onodera's philosophy is to provide exceptional oral healthcare with an emphasis on education and prevention. In addition to her passion for dentistry, Dr. Onodera is an athletic enthusiast, dessert connoisseur, and insatiable traveler.
Dr. Michelle Shin
Pediatric Dentist Dr. Shin received her dental degree from Loma Linda University and continued her training at LLU to specialize and received her Masters of Science in Dentistry in Pediatric Dentistry. Dr. Shin loves working with children and actively participating in their oral health care. She believes that every child deserves a healthy and happy smile starting at a young age. A key part of her practice philosophy is the idea of prevention is the best medicine, and that dental decay can be prevented from a young age with the proper regimen at home and regular dental visits. Dr. Shin strives to incorporate this philosophy with all her patients and will encourage a transparent and informative discussion with the parents and caretakers to facilitate a great experience for your child in the oft-unfamiliar dental environment.
In her free time outside of the excitement of Pediatric Dentistry, Dr. Shin enjoys exploring the great outdoors, traveling to interesting locales around the world to experience different cultures and food scenes, and spending quality time with her family and friends!
PROFESSIONAL MEMBERSHIPS
American Dental Association
California Dental Association
American Board of Pediatric Dentistry - Diplomate
American Association of Pediatric Dentistry
---
Our Staff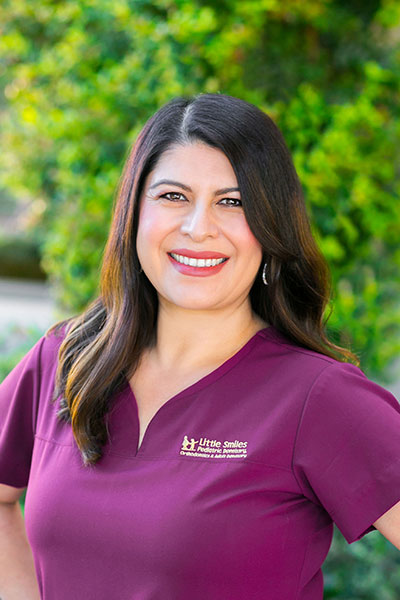 Teresa
Office Manager, RDA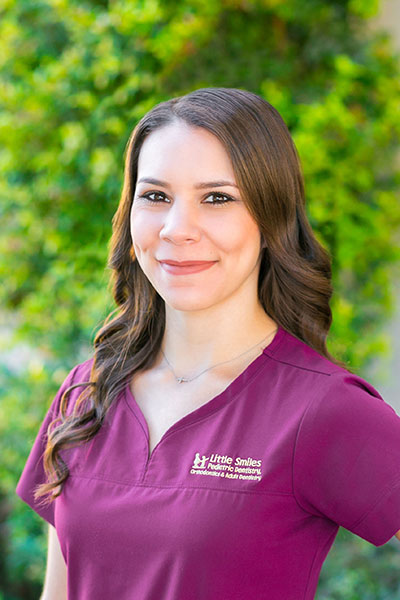 Nickole
Ortho Coordinator, RDA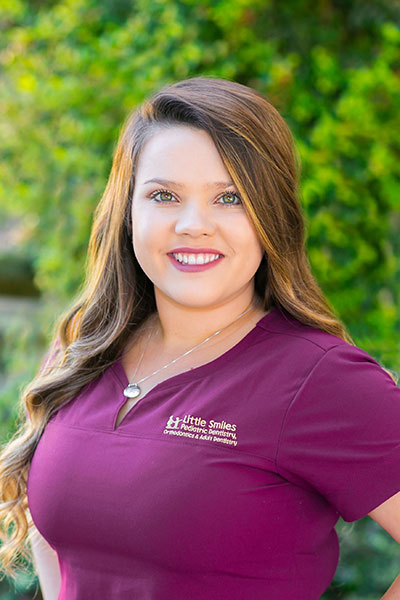 Marissa
Ortho Coordinator, DA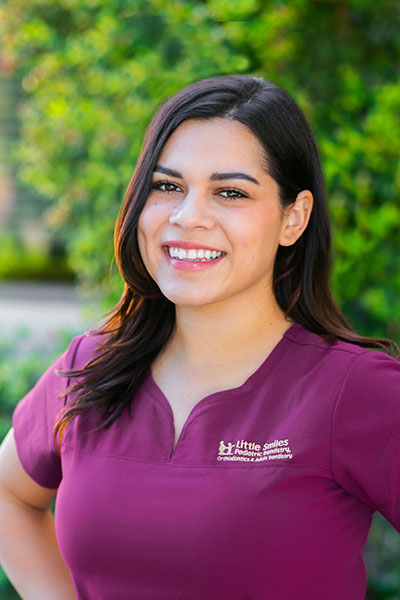 Delaney
Registered Dental Hygienist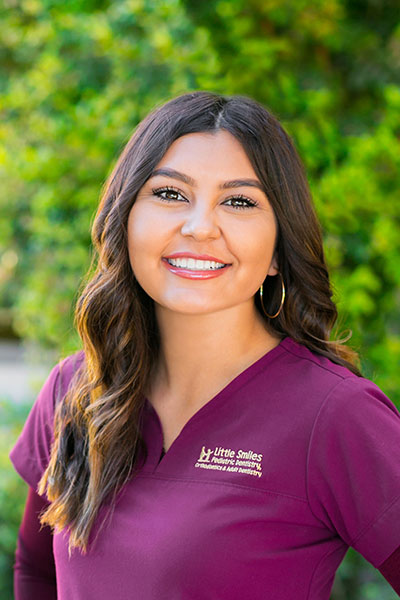 Jasmine
Registered Dental Assistant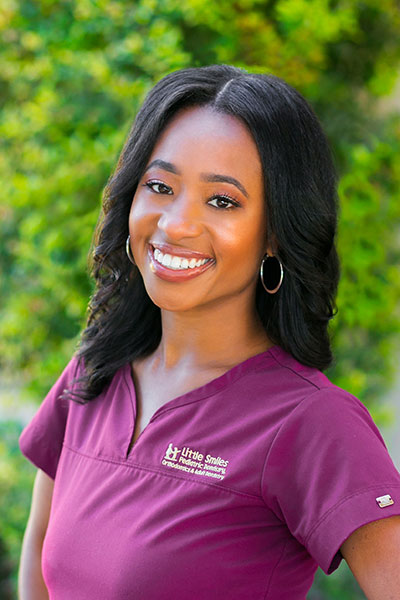 Leticia
Registered Dental Assistant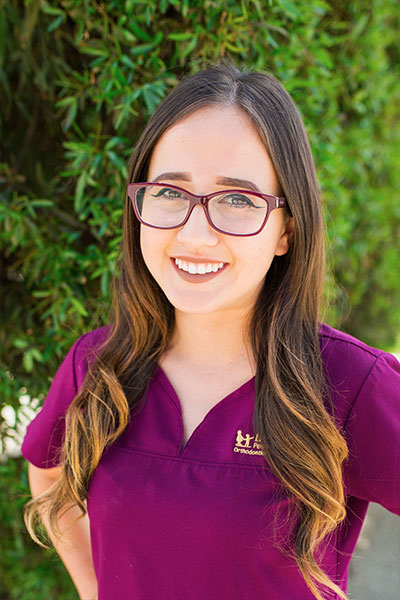 Selene
Registered Dental Assistant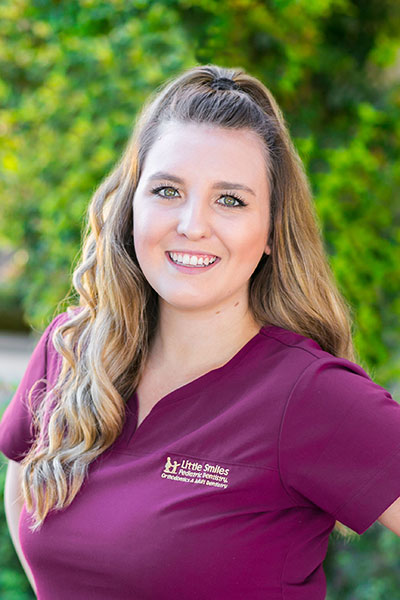 Julia
Dental Assistant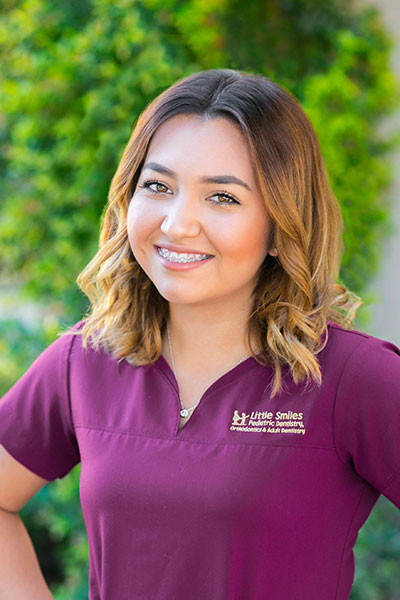 Noemi
Sterilization Tech